John D. McQuillen, DDS
My decision to enter the dental field was made at a very young age, and it's a decision I've never regretted for a single moment. I get to come to work each morning with a wonderful group of people, and I know that we are improving the quality of life of those patients who choose our practice.
We have patients from one year old to over 100 years of age, and each is unique. I enjoy visiting with them, hearing their stories, and sharing a laugh or two.
Education and continuing education
I did my undergraduate work at Kansas State University and decided to spend some time outside my home state to pursue my Doctor of Dental Surgery degree at the University of Southern California. I returned home in 1989 to serve my neighbors with excellent dental care.
Our vision statement declares that our goal is to provide exceptional dental care to our patients and to use the best technology to assist us toward that goal. We are committed to learning new skills and perfecting our existing ones, which cannot be accomplished without a commitment to continuing education and lifelong learning. Learning new things and implementing them is fun and exciting for me. It's what keeps my profession exciting, challenging, and new.
Professional associations
American Dental Association
Kansas Dental Association
Topeka District Dental Society
Kansas City CEREC® Study Club
In the community
In addition to my work, I am very involved in giving back to the community and the world at large. I volunteer for the Kansas Mission of Mercy, a free mobile dental clinic, and I was Co-Chair of the organizing committee for KMOM when it was held in Manhattan, Kansas.
I support the Columbian Theatre and Art Center, and the Community Health Ministry in Wamego. Our office is a Corporate Hole Sponsor for the Wamego City Hospital Benefit Golf Tournament and a Table Sponsor for the Diamonds and Denim Wamego City Hospital Fundraiser.
We all feel it is so important to give back to organizations that help to make our community more vibrant and improve the quality of life in our town.
Outside the office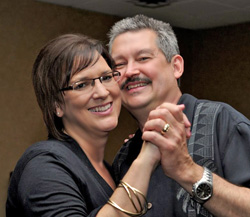 I was born in Oxnard, CA. As the son of an Air Force family, I moved to the Kansas City area when I was four. When my dad retired from the USAF, we moved to Galena, in the southeast part of the state, and then to the Topeka area when I reached high school age.
I now happily reside just outside Wamego city limits. My wife Cindy and I were married in 1984 after my first year of dental school. She is from Topeka and attended Kansas State University, where she earned a bachelor's degree in early childhood education.
In my leisure time, I play lead guitar and sing lead and harmonies in a classic country band called "The Pott County Posse." I have also played guitar for productions at the Columbian Theatre, including the popular "Hoo Haw" shows and "A Closer Walk with Patsy Cline."
While I enjoy a good round of golf, I am most excited about finally earning my pilot's license. I have wanted to learn to fly ever since I was a boy growing up on an Air Force base. I love soaring in the sky over my beautiful home state.